HOME > Influence > Industry > VantageScore > St. Patrick's Day > 2011


St. Patrick's Day malarkey, 2011 - VantageScore and Reuters on employers and credit scores
The Consumer Federation of America credit score survey incident. VantageScore and Reuters further the employers-use-credit-scores myth.
3/17/2011
Want press? Conduct a survey. Want bad press? Do it with VantageScore.
The myth, and whodunit this time
Contrary to a myth that employers use credit scores, the consumer reporting agencies—Equifax, TransUnion and Experian—all state that they do not provide credit scores for employment purposes. But upstart credit scoring company VantageScore says something else:
Credit scores are an increasingly important facet of everyday life. Not only do they play a significant role when a bank or credit issuer considers whether (and at what terms) to approve a consumer application for a mortgage, car loan, or credit card, but they are increasingly being used by non-lenders, such as insurance companies, landlords, and employers, to help them determine whether they want to establish a business relationship with someone. Despite credit scores' integral role in shaping our individual worlds, various industry studies in recent years have shown that credit scores are misunderstood.



VantageScore press kit
Misunderstood. Amen to that.
The Consumer Federation of America, "an association of non-profit consumer organizations" (one of which, in Ohio, has a dead website, and the other, a problem with elementary civics), conducted another one of its surveys about credit scores. But despite his position, and experience with credit scores, CFA executive director Stephen Brobeck "did a double take" when he saw his credit scores were in the low 800s! Yikes!
Alas, it was a false alarm because the score was a VantageScore credit score, not FICO. But, his supposed initial confusion looks great in the print narrative for this dog and pony show. While the media eat up "surveys" put out by anybody and their mother, here's a big 3-year study about employers and credit scores to which almost nobody seems to be paying attention.
Let bygones be buy-gones
Strange choices of partners for CFA's fabulous surveys in the past include Providian (defunct) and Washington Mutual (kaput). Fair Isaac complained about a CFA survey in 2003, then sponsored one in 2005.
In 2006, the CFA executive director had this to say about VantageScore: "'It's a terrible idea,' Brobeck says. 'At a time when consumers are just beginning to understand the traditional credit score scale, to change it radically will greatly increase consumer confusion.'"
"Journalism"
Releasing the results of a survey is one of the oldest new tricks in the public relations book. And, give the media a chance to attach numbers to any story, they buy it because it sounds substantiated, exact and scientific. Caught up in the CFA/VantageScore survey statistics hoopla, Reuters, "the world's largest international multimedia news agency," again went with the employers zombie myth, reporting, "Lenders, landlords, employers and insurance companies all use these automated scoring systems to assess the riskiness of their potential customers, so having a low credit score can cost you an apartment, an insurance policy, a mortgage loan, or several thousands of dollars in higher interest costs."
A year ago, in just another pathetic chapter in the credit scores and employers story arc, Reuters competitor The Associated Press reported that a freshman Maryland state legislator said that employers use credit scores. You can still read that story today, with no clarification by the AP, on the website of at least one (huge) publication who ran the story. While it is true that the politician said it, what he said is not necessarily true. Apparently, that is the standard of truth (unlike a more innocent humiliation-be-damned era) for the AP and USA TODAY.
The writer's subsequent request for a comment for another story was declined:
AP writer: "I'm revisiting this subject and taking a look at what states actually passed legislation to limit credit checks on job applicants. Are you a spokesman for your firm? If so would you like to comment on the subject?"

creditscoring.com: "No, I do not want to help you as you write another piece because I am aware of no clarification to your article that appeared in March."
But, there is a difference in Reuters' CFA/VantageScore survey story: In it, the news service cited no source for its statement. When asked for the source, the Reuters writer said it was mentioned at a press briefing and is in the VantageScore press kit. That wasn't the case a year ago, when another Reuters blogger did the deed. For that story, the agency named its source. Incredibly and inexplicably (even after a drubbing by moving pictures (starting at :46)) the source was the CEO of Fair Isaac, the credit score company. Then, last month, even with information contrary to the source's statement right on Reuters' own website, the newsgathering organization happily and blithely skipped down the same path again. Blog comments really do not matter.
From this video, see if you can deduce what Thomson Reuters actually does.
Standing in the Rain
In response to a Credit Scoring Site inquiry, VantageScore's reaction, so far, has been to change some words on its website.
Before - VantageScore's "BENEFITS FOR CONSUMERS" web page includes the word employers:
Credit scores are an important part of everyday life. They play a significant role when banks or credit issuers consider whether (and at what terms) to approve an application for a mortgage, car loan or credit card. Credit scores are increasingly being used by non-lenders, such as insurance companies, landlords and employers, to help them determine if they want to establish a business relationship with a consumer.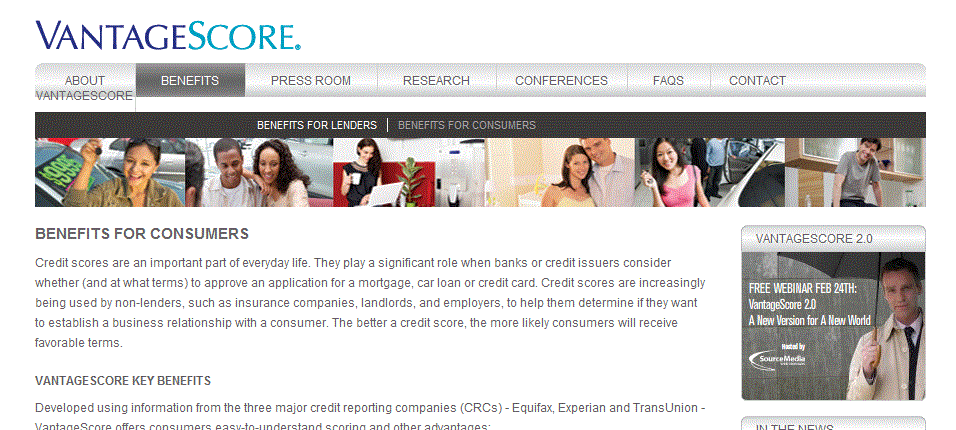 After - The word "employers" is removed: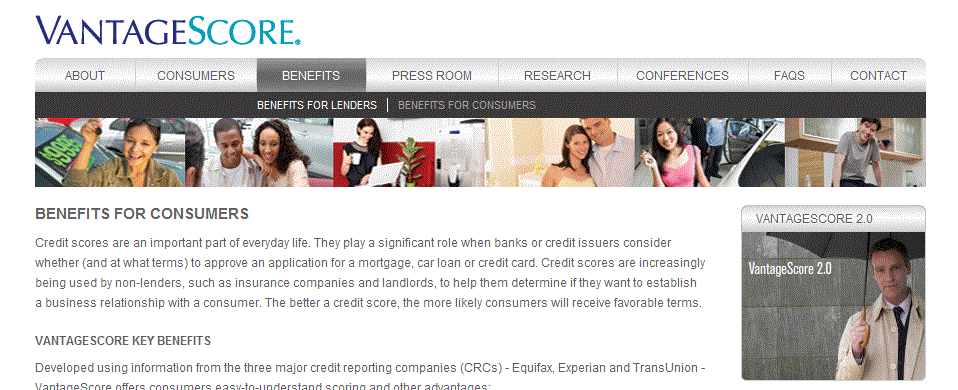 About its malarkey, a VantageScore spokesman wrote,
Mr. Fisher,

Thank you for alerting us about this and rest assured last week we informed Ms. Stern that we have updated our information to reflect that employers use credit reports and not credit scores.
Perhaps, but (scribes beware) the VantageScore Press kit still mentions employers. And the Reuters post remains intact.
Root unknown, myth widespread
Whether caused by deceit or incompetence, the result of the credit-scores-are-used-by-employers myth is the same. As the steady, constant and never-ending drumbeat continues unchecked, the legend grows and the misinformation seems to expand exponentially. Astoundingly, joining the third estate are consumer advocates, legislators, the central bank, states' agencies, the U.S. Treasury and, indeed, the consumer reporting industry, itself (just click on "see example"). This is not the first time a media event like this involving a consumer reporting player happened. In 2009, TransUnion commissioned a hifalutin survey and got together with U.S. News—who dutifully reported on employers allegedly using credit scores (and subsequently had to amend the report). In the politics of media errors and corrections, nobody wins.
It is unknown if the statements by the five parties—the CRAs and score companies—are uninformed braggadocio about their dominion over consumers, a misguided attempt to sell more credit scores through a scare-tactic or both. Either way, it is bone-headed incompetence, and provides a look into an industry of arrogance.
And who is VantageScore, anyway? It is a joint venture of three big (as in the "Big Three"), well-known companies.
If, as another news service puts it, the American consumer scored a D on his knowledge of credit scores, then VantageScore, who should know better, gets an F.
---
Reuters: